I've been on a bit of a kick lately with Korean food, TV, and movies. Interestingly, food plays a major role in most of the Korean films I've seen.
The original Oldboy is the first Korean movie I remember seeing years ago. The lead actor famously eats a live octopus – something he did four times. Second, mandu (Korean dumplings) play heavily into the plot.
Even Joon-Ho's The Host features food fairly heavily. The main family owns a small river-side food shack, selling beer and grilled squid. Instant ramen is seen a few times; from an empty container being used as a piggy bank to the means of showing family bonds. I wouldn't exactly call the movie, uhm, appetizing.
You probably don't think about food first with Snowpiercer, but thinking back – it's a huge part of the Bong Joon-Ho flick. The poor people of the back of the train with protein bars and the "balance" that's maintained in the other sections with sushi, steak, etc.
From the main family's food struggles, to a housekeeper's food allergies; food is seen throughout Bong Joon-Ho's Parasite. The best known food from the movie is ram-don, a mixture of jajangmyeon and jjampong topped with expensive steak. The name, ram-don, was a creation for the film and is usually called jjapaguri. But similar to his earlier movie The Host, food, and the struggle to get it, is a symbol for family.
Lastly, Squid Game, features a few instances of food, the most well known of which is dalonga. But, like some of the other films above, steak is again used a symbol of wealth and success.
Thankfully, I have a great Korean restaurant here in Portland, Maine called N-to-Tail. I've been able to sample bulgogi, Korean fried chicken, kimchi pancakes, and more. At home I've been making Buldak spicy ramen by Samyang. My "recipe" of late has been to toss in some kewpie, chicken, and egg, and a vegetable. While not as as good as N-to-nail, Bibigo offers frozen Korean fried chicken, mandu, kimchi fried rice, and more.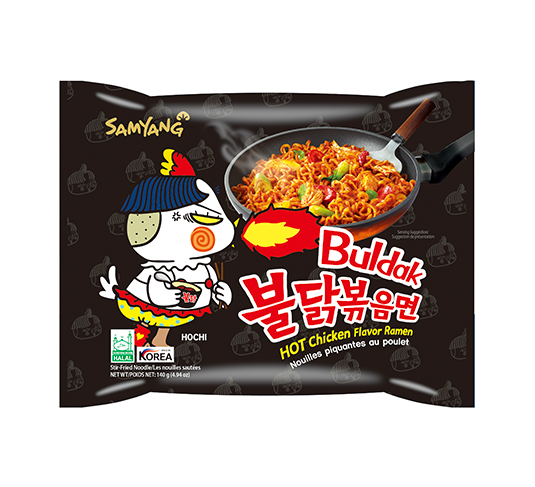 Bonus: I have yet to see Minari, but A24 released this cool series of recipe cards from the cast.
Thankfully, Binging with Babish has featured a few of these recipes, along with other Korean dishes.